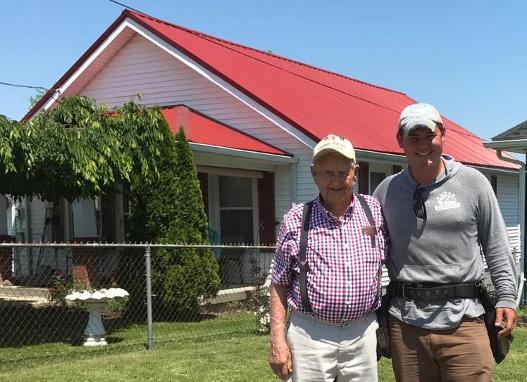 Coleman Hatton, a World War II Veteran who is Gayle's Dad along with Ollie Rowe, owner of 5 Star Roofing.
Most wonderful friendliest people you could meet! Very efficient and fast at their job! Great great job done for my dad and me!!!
- Gayle R.
Ollie and his crew showed up right on time. They installed a metal roof on our garage and it has never looked better! They were all courteous and very professional. Everything was as neat and clean when they left as it was when they arrived. If you need any roofing done, call 5-Star. We'll be calling them again!
Ollie and his crew were professional, efficient, and installed a beautiful metal roof within the time frame promised, at a competitive price. I highly recommend 5 Star Roofing! I wouldn't call anyone else.
- Betsy D.
Were it possible, I would give 5-Star Roofing and Ollie Rowe many more than 5 stars. From getting the estimate to the installation, the process was seamless. Ollie is a true professional and his crew is fast and efficient. Ollie explained the process, provided a reasonable estimate and answered any and all questions to my complete satisfaction. It is my sincere pleasure to recommend 5-Star Roofing and Ollie Rowe!!!
- Betty R.K.
We love our new roof and 5 Star Roofing did an amazing job. we couldnt be happier with the professional and friendly service we received from 5 Star Roofing!
- Donetta C.
Efficient, courteous, prompt, thorough - did a great job with complete cleanup. Very happy and satisfied with the results. Definitely recommend.
- Thor T.
Very impressed with Mr. Ollie Rowe and his 5 Star Roofing Co. Our expectations were met or exceeded in all areas of the job. Timely quote, recommendations explained, top quality material and excellent workmanship . Very pleased with the results.
- Don D.
Ollie Rowe and his team recently replaced our roof which was damaged by a hail storm. They did a wonderful job. The roof looks great, they cleaned up thoroughly before they left and Ollie was actually on the job site the entire day making sure everything was done correctly, and I really appreciated that. I would highly recommend them and would use them again.
- Lee Ann Y.
Completely satisfied with the work performed by 5 Star roofing. They arrived on time and completed the roof replacement in a very timely manner. The new roof looks great and my wife and I are very happy. They cleaned up all the old materials better than expected. I highly recommend this company for any and all roof work.
- Cecil M.
The best experience I have ever had with a contractor. The work was amazing as well as the communication before the job started.
- Bradley S.
He shows up quickly and will give you a detailed, well laid out cost of all materials and labor. Despite being the owner of the company - he showed up first and was the last to leave the job site. The cleanup was excellent. The copper flashing put around the chimney was done correctly and looks wonderful. The price quoted and paid fell into the range expected for the quality of materials and time spent on the job.
- Lavonne L
Ollie Rowe and 5 Star Roofing, re-roofed our 20 year old house the summer of 2016. I could not have had a better customer experience. Ollie inspected my roof, then came back and met my insurance adjuster, with no guarantee of the job. When I gave him the go ahead on Thursday, he had my roof torn off and roofed by Saturday at 3:30pm! At every step in the process Ollie produced. The price was competitive and fair, workmanship was excellent, follow-up was top notch. After Ollie's crew had cleaned up and left, he remained and continued to run the magnet to pick up any stray nails in my yard. I would recommend Ollie and 5 Star Roofing to anyone interested In high quality product and a great customer experience.
- Alan S.
Overall the best experience I've had with a contractor. Ollie Rowe was professional, timely, and most importantly, true to his word. He was in contact with me throughout the process and very helpful in dealing with my insurance. Plus, I have a beautiful new roof!
- Sherri R.
5 Star Roofing are very professional and have done an exceptional job. Completion was fast and clean. Already received several comments from friends and neighbors. Thanks again to Ollie Rowe and team.
- Mark W.
When's the worst time to discover you need a new roof? When your house is for sale and you've accepted an offer. Who is the best person to call? Ollie and 5 Star. He even spoke with me while he was vacation. Don't waste time calling another roofing contractor; Ollie and his crew are simply the best.
- Nathan G.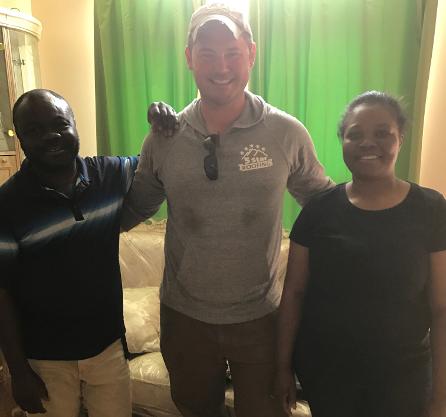 If you'd like to contact any of our customers for a reference, we'd love to get you in touch with them.
5 Star Roofing, 1619 Bypass Rd #255 Winchester KY 40391,,
5 Star Roofing Winchester KY, Need a New Roof Winchester KY, 5 Star Roofing Central KY, Roofer Winchester KY, Roofer Lexington KY, Roofer Paris KY, Roofer Mt. Sterling KY, Roofer Mount Sterling KY, Roofer Richmond KY, Roofer Georgetown KY, Roofer Versailles KY, Roofer Clark County KY, Roofer Fayette County KY, Roofer Bourbon County KY, Roofer Bourbon County KY, Roofer Montgomery County KY, Roofer Madison County KY, Roofer Scott County KY, Roofer Woodford County KY, Roofer Clay City KY, Roofer Stanton KY, Roofer Powell County KY, Roofer Central KY, Roofing Winchester KY, Roofing Clark County KY, Roofing Lexington KY, Roofing Fayette County KY, Roofing Paris KY, Roofing Bourbon County KY, Roofing Mt. Sterling KY, Roofing Mount Sterling KY, Roofing Montgomery County KY, Roofing Richmond KY, Roofing Madison County KY, Roofing Georgetown KY, Roofing Scott County KY, Roofing Versailles KY, Roofing Woodford County KY, Roofing Clay City KY, Roofing Stanton KY, Roofing Powell County KY, Roofing Central KY, Shingle Roofing Winchester KY, Shingle Roofing Clark County KY, Shingle Roofing Lexington KY, Shingle Roofing Fayette County KY, Shingle Roofing Paris KY, Shingle Roofing Bourbon County KY, Shingle Roofing Mt. Sterling KY, Shingle Roofing Mount Sterling KY, Shingle Roofing Montgomery County, Shingle Roofing Richmond KY, Shingle Roofing Madison County KY, Shingle Roofing Georgetown KY, Shingle Roofing Scott County KY, Shingle Roofing Versailles KY, Shingle Roofing Woodford County KY, Shingle Roofing Clay City KY, Shingle Roofing Stanton KY, Shingle Roofing Powell County KY, Shingle Roofing Central KY, Metal Roofing Winchester KY, Metal Roofing Clark County KY, Metal Roofing Lexington KY, Metal Roofing Fayette County KY, Metal Roofing Paris KY, Metal Roofing Bourbon County KY, Metal Roofing Mt. Sterling KY, Metal Roofing Mount Sterling KY, Metal Roofing Montgomery County KY, Metal Roofing Richmond KY, Metal Roofing Madison County KY, Metal Roofing Georgetown KY, Metal Roofing Scott County KY, Metal Roofing Versailles KY, Metal Roofing Woodford County KY, Metal Roofing Clay City KY, Metal Roofing Stanton KY, Metal Roofing Powell County KY, Metal Roofing Central KY, Roofing Contractor Winchester KY, Roofing Contractor Clark County KY, Roofing Contractor Lexington KY, Roofing Contractor Fayette County KY, Roofing Contractor Paris KY, Roofing Contractor Bourbon County KY, Roofing Contractor Mt. Sterling KY, Roofing Contractor Mount Sterling KY, Roofing Contractor Montgomery County KY, Roofing Contractor Richmond KY, Roofing Contractor Madison County KY, Roofing Contractor Georgetown KY, Roofing Contractor Scott County KY, Roofing Contractor Versailles KY, Roofing Contractor Woodford County KY, Roofing Contractor Clay City KY, Roofing Contractor Stanton KY, Roofing Contractor Powell County KY, Roofing Contractor Central KY, Roofing Installer Winchester KY, Roofing Installer Clark County KY, Roofing Installer Lexington KY, Roofing Installer Fayette County KY, Roofing Installer Paris KY, Roofing Installer Bourbon County KY, Roofing Installer Mt. Sterling KY, Roofing Installer Mount Sterling KY, Roofing Installer Montgomery County KY, Roofing Installer Richmond KY, Roofing Installer Madison County KY, Roofing Installer Georgetown KY, Roofing Installer Scott County KY, Roofing Installer Versailles KY, Roofing Installer Woodford County KY, Roofing Installer Clay City KY, Roofing Installer Stanton KY, Roofing Installer Powell County KY, Roofing Installer Central KY, Roofing Company Winchester KY, Roofing Company Clark County KY, Roofing Company Lexington KY, Roofing Company Fayette County KY, Roofing Company Paris KY, Roofing Company Bourbon County KY, Roofing Company Mt. Sterling KY, Roofing Company Mount Sterling KY, Roofing Company Montgomery County KY, Roofing Company Richmond KY, Roofing Company Madison County KY, Roofing Company Georgetown KY, Roofing Company Scott County KY, Roofing Company Versailles KY, Roofing Company Woodford County KY, Roofing Company Clay City KY, Roofing Company Stanton KY, Roofing Company Powell County KY, Roofing Company Central KY, Pole Barn Winchester KY, Pole Barn Clark County KY, Pole Barn Lexington KY, Pole Barn Fayette County KY, Pole Barn Paris KY, Pole Barn Bourbon County KY, Pole Barn Mt. Sterling KY, Pole Barn Mount Sterling KY, Pole Barn Montgomery County KY, Pole Barn Richmond KY, Pole Barn Madison County KY, Pole Barn Georgetown KY, Pole Barn Scott County KY, Pole Barn Versailles KY, Pole Barn Woodford County KY, Pole Barn Clay City KY, Pole Barn Stanton KY, Pole Barn Powell County KY, Pole Barn Central KY, Pole Building Winchester KY, Pole Building Clark County KY, Pole Building Lexington KY, Pole Building Fayette County KY, Pole Building Paris KY, Pole Building Bourbon County KY, Pole Building Mt. Sterling KY, Pole Building Mount Sterling KY, Pole Building Montgomery County KY, Pole Building Richmond KY, Pole Building Madison County KY, Pole Building Georgetown KY, Pole Building Scott County KY, Pole Building Versailles KY, Pole Building Woodford County KY, Pole Building Clay City KY, Pole Building Stanton KY, Pole Building Powell County KY, Pole Building Central KY, New Roof Winchester KY, New Roof Clark County KY, New Roof Lexington KY, New Roof Fayette County KY, New Roof Paris KY, New Roof Bourbon County KY, New Roof Mt. Sterling KY, New Roof Mount Sterling KY, New Roof Montgomery County KY, New Roof Richmond KY, New Roof Madison County KY, New Roof Georgetown KY, New Roof Scott County KY, New Roof Versailles KY, New Roof Woodford County KY, New Roof Clay City KY, New Roof Stanton KY, New Roof Powell County KY, New Roof Central KY, Roofer in Winchester KY, Roofer in Lexington KY, Roofer in Paris KY, Roofer in Mt. Sterling KY, Roofer in Mount Sterling KY, Roofer in Richmond KY, Roofer in Georgetown KY, Roofer in Versailles KY, Roofer in Clark County KY, Roofer in Fayette County KY, Roofer in Bourbon County KY, Roofer in Bourbon County KY, Roofer in Montgomery County KY, Roofer in Madison County KY, Roofer in Scott County KY, Roofer in Woodford County KY, Roofer in Clay City KY, Roofer in Stanton KY, Roofer in Powell County KY, Roofer in Central KY, Roofer 40391, Roofer 40502, Roofer 40361, Roofer 40353, Roofer 40503, Roofer 40475, Roofer 40324, Roofer 40383, Roofer 40504, Roofer 40505, Roofer 40506, Roofer 40507, Roofer 40508, Roofer 40509, Roofer 40510, Roofer 40379, 5 Star, 5 Star Roofing, 5 Star Pole Barn, 5 Star Pole Building, Five Star Roofing, Five Star Pole Buildings, Five Star Pole Barns, Five Star Roofing Lexington KY, Five Star Roofing Winchester KY, Five Star Roofing Georgetown KY, Five Star Roofing Richmond KY, Five Star Roofing Paris KY, Five Star Roofing Versailles KY, Five Star Roofing Clay City KY, Five Star Roofing Stanton KY, Five Star Roofing Mt. Sterling KY, Five Star Roofing Mount Sterling KY, Five Star Roofing Central KY, 5 Star Roofing Georgetown KY, 5 Star Roofing Richmond KY, 5 Star Roofing Paris KY, 5 Star Roofing Versailles KY, 5 Star Roofing Mt. Sterling KY, 5 Star Roofing Mount Sterling KY, 5 Star Roofing Lexington KY, 5 Star Roofing Clay City KY, 5 Star Roofing Stanton KY, 5 Star Pole Barn, 5 Star Pole Building, 859 - 322 - 3636, 859-771-4445