1st Post - 12/24/2018
Protection of the Customer's Property During a Shingle Re-Roof
Before the beginning of every shingle re-roofing project, I bring extra OSB/plywood to the jobsite. I don't bring it because I think we will need it all for decking repairs (although it does come in handy), however it is brought for the protection of the customer's property.

During the tear off, a very large mess can be made (We always clean up that large mess too!) We try to throw as much material as possible directly into our trailer dumpster. During the tear off of the old shingles, protecting the customer's property becomes #1 priority!
We like to move all vulnerable items away from the edge of roof line such as - tables, chairs, potted plants, yard decorations, etc. We then place tarps down around the yard where debris may land and put up OSB/plywood when necessary to protect the customers property. Garage Doors are always a great place to put up OSB/plywood for protection, along with plants, entry doors, and windows that are close to the ground, etc.

One of the many great reasons to make 5 Star Roofing your 1st call for a new shingle roof!
If you are in the market for a new shingle roof, call now and speak directly to owner, Ollie - 859-771-4445
The following pictures are some examples of OSB/plywood being used to protect the customer's property.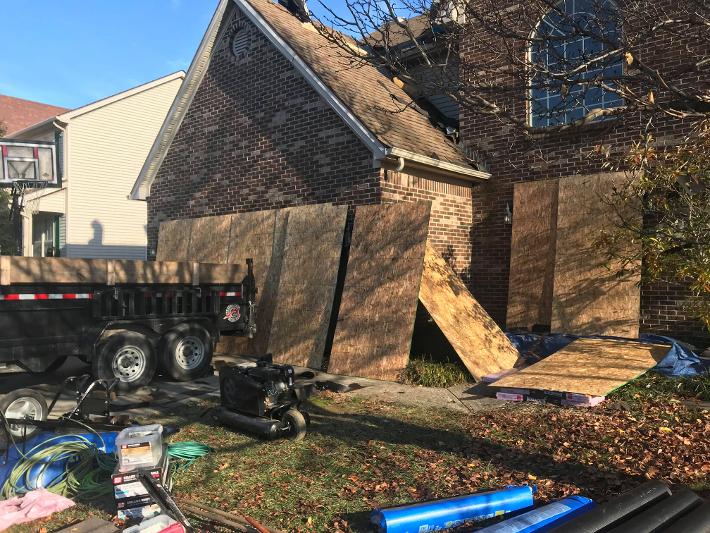 ^ Using OSB/Plywood to protect the customer's garage door, front screen door, and many plants from debris during the tear off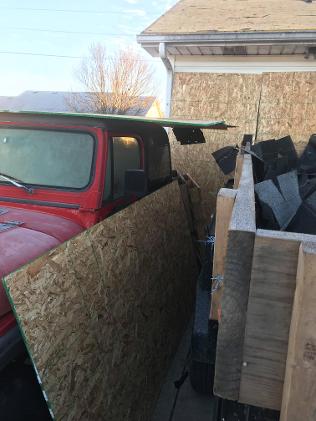 ^ Using OSB/Plywood to protect the customer's garage door and their Jeep that was broken down