5 Star Roofing is a Central Kentucky Roofing Company who services Lexington & All Surrounding Counties.
We install Shingle & Metal Roofing all over Central Kentucky.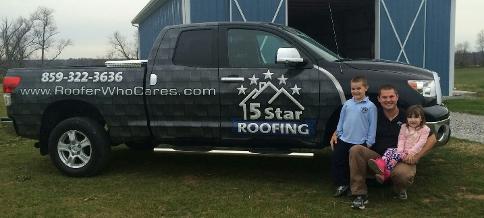 "We may win some jobs with our exact pricing; however, after the job is complete, we want to be remembered for the quality of our work, along with the service and dedication to our customers.
We want repeat business, and we always want the customer to be proud enough to refer us to their family, friends & neighbors!" - Owner, Ollie Rowe
We are based out of Winchester, KY and currently serve the following counties and cities in Kentucky:
Clark County - Winchester, Fayette County - Lexington, Scott County - Georgetown & Stamping Ground,
Madison County - Richmond & Berea, Bourbon County - Paris & Millersburg, Estill County - Irvine,
Woodford County - Versailles & Midway, Franklin County - Frankfort,
Montgomery County - Mt. Sterling & Jeffersonville, Menifee County - Frenchburg, Nicholas County - Carlisle,
Powell County - Clay City & Stanton, Wolfe County - Campton,
Bath County - Owingsville, Sharpsburg, & Salt Lick, Rowan County - Morehead,
Jessamine County - Nicholasville & Wilmore.
Please call if your county or city is not listed. We can occasionally serve outside of the listed area.