From the smallest to the largest, 5 Star Roofing can design and build the best Pole Barns /
Pole Buildings in Central Kentucky.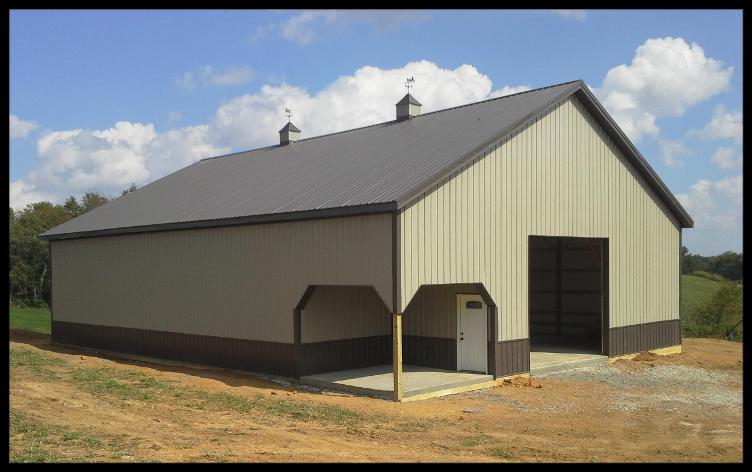 48' Wide x 64' Long x 14' Tall Attic Room 14' Wide x 8' Tall
Together, we can discuss the perfect Pole Barn / Pole Building that fits your desires.
Then, 5 Star Roofing can take that information and design your Pole Building.
All Buildings are designed to Kentucky State Building Code.
You will receive an image of the building along with all building details.
Our customers get a complete installed & delivered price, every time!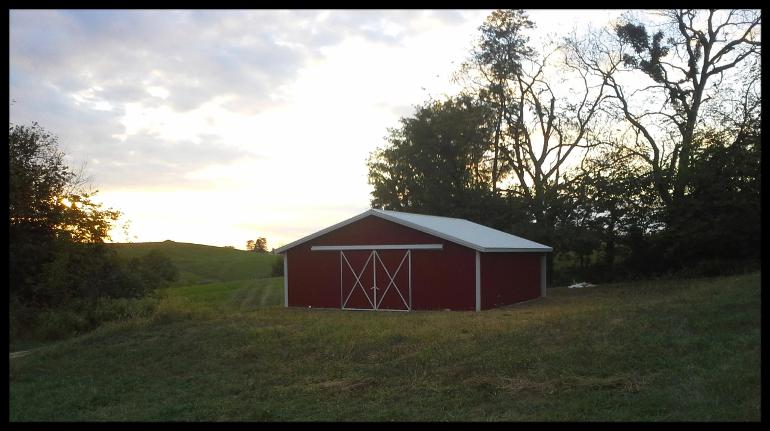 30' Wide x 36' Long x 8' Tall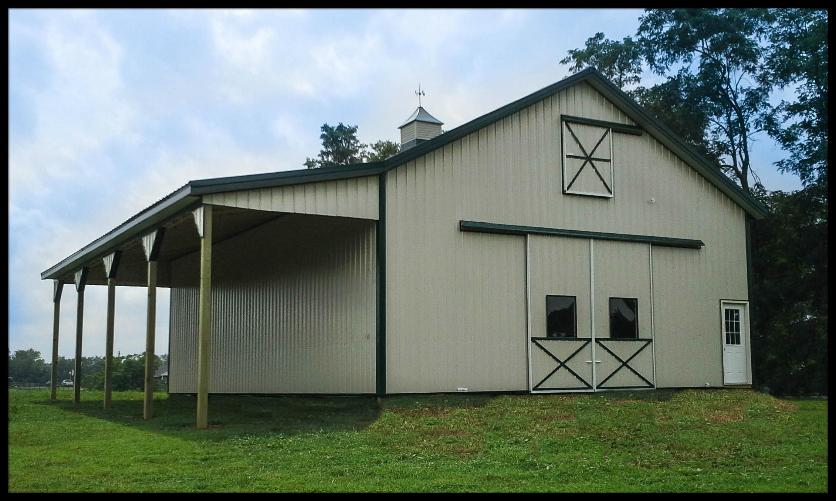 36' Wide x 48' Long x 14' Tall - 12' Lean Shed - Attic Room 12' Wide & 7' Tall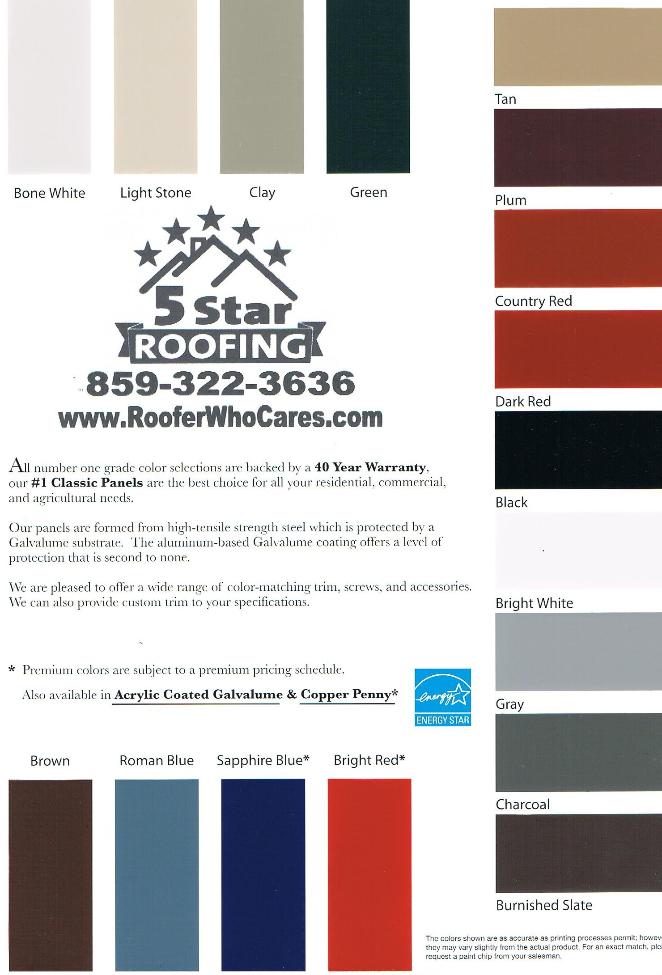 Before making your color selection, we ask the customer to review actual color chips.
(Computer images may vary for the color chart.)
5 Star Roofing, 1619 Bypass Rd #255 Winchester KY 40391, 859 - 322 - 3636, 5 Star Roofing Winchester KY, 5 Star Pole Barn, New Pole Building Winchester KY, 5 Star Pole Building, Pole Barn Winchester KY, Pole Barn Clark County KY, Pole Barn Lexington KY, Pole Barn Fayette County KY, Pole Barn Paris KY, Pole Barn Bourbon County KY, Pole Barn Mt. Sterling KY, Pole Barn Mount Sterling KY, Pole Barn Montgomery County KY, Pole Barn Richmond KY, Pole Barn Madison County KY, Pole Barn Georgetown KY, Pole Barn Scott County KY, Pole Barn Versailles KY, Pole Barn Woodford County KY, Pole Barn Clay City KY, Pole Barn Stanton KY, Pole Barn Powell County KY, Pole Barn Central KY, Pole Building Winchester KY, Pole Building Clark County KY, Pole Building Lexington KY, Pole Building Fayette County KY, Pole Building Paris KY, Pole Building Bourbon County KY, Pole Building Mt. Sterling KY, Pole Building Mount Sterling KY, Pole Building Montgomery County KY, Pole Building Richmond KY, Pole Building Madison County KY, Pole Building Georgetown KY, Pole Building Scott County KY, Pole Building Versailles KY, Pole Building Woodford County KY, Pole Building Clay City KY, Pole Building Stanton KY, Pole Building Powell County KY, Pole Building Central KY,